Climate activists in Austria defaced a famous painting in a Vienna museum on Tuesday, the latest in a line of protests targeting important works of art in calls for action against fossil fuels.
Members of the human rights group Last Generation posted photos and a video online Tuesday showing a protester pouring "black, oily water" on Gustav Klimt's "Death and Life" painting at the Leopold Museum before intervening. One protester can be seen trying to stick himself to the protective cover in front of the painting.
"New oil and gas drilling is a death sentence for humanity," Last Generation wrote on Twitter after the strike.
PEOPLE USING THE CHANGE OF JEREMIAH'S TECHNIQUES PEE POTATOES VISIT MONET'S PAINTING.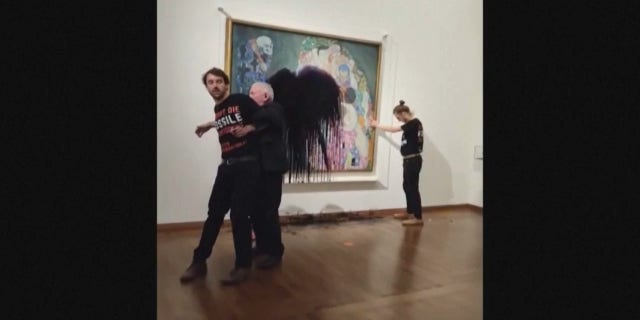 The group is calling for laws to limit road speeds to 100km/h (about 62 mph), which they say could save 460 million tonnes of CO2 a year in Austria and reduce noise and air pollution.
Last Generation held this protest on a day when the public was allowed to enter the museum for free on St. Patrick's Day. Leopold, in an event sponsored by oil and gas company OMV.
FLASHBACK: FOUNDER OF CLIMATE GROUP DESTROYING FLAMING PAINTING SAYS HOLOCAUST WAS A 'NORMAL EVENT'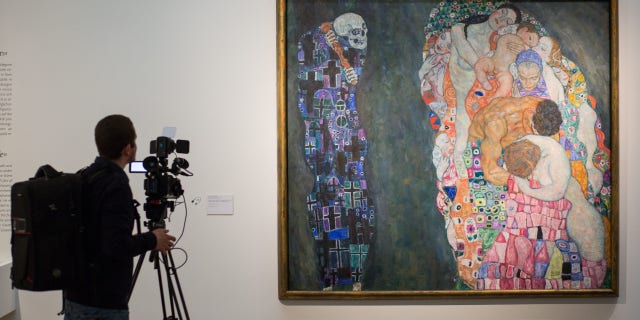 "People who are still searching for and drilling for new oil and gas have blood on their hands – and no amount of subsidies will wash that blood away," the opposition group said. "There can be no clean art with dirty money involved!"
Climate activists from different groups in recent months have tried to deface paintings and stick them to other works of art in museums across Europe. On November 11, environmentalists in Norway tried and failed to glue on Edvard Munch's 1889 painting "The Scream" in a museum in Oslo. Last month, two activists were arrested in London, England, after throwing cans of tomato juice at Vincent van Gogh's painting "Sunflowers".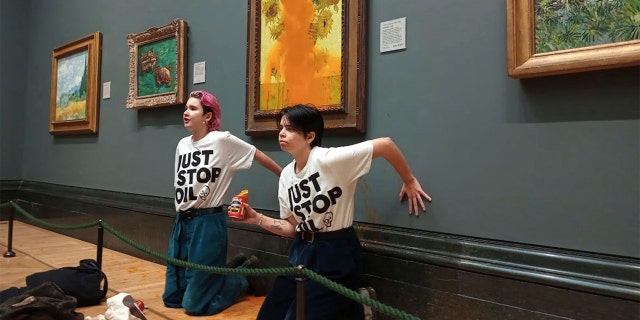 BIG OIL HEIRESS FUNDING 'JUST STOP OIL' GROUP THROWS SOUP ON VAN GOGH PAINTING.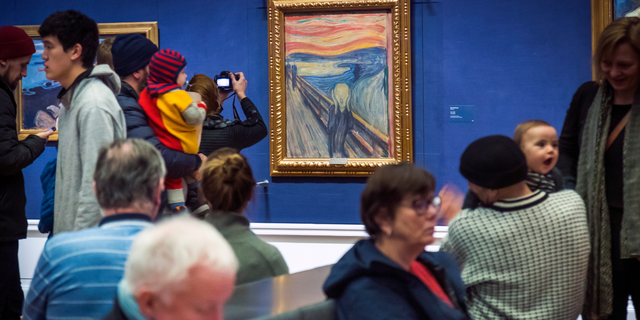 Museum officials told reporters at a press conference that the museum had increased security after the recent attack and that Klimt's 1915 work "Death and Life" was not damaged by Tuesday's demonstration.
"Fortunately, the work of art was not damaged. Nevertheless, we are surprised that the Leopold Museum was looking here," the head of museology Hans-Peter Wipplinger said at a press conference, according to Reuters.
CLICK HERE TO GET THE FOX NEWS APP
Although Wipplinger said the museum sympathizes with the actions of the protesters, he condemned the protest and said Last Generation will be charged for the deployment of the police and cleanup, estimating the cost to be around five figures in euros.
It is not yet clear whether these people have been arrested.