A post about an employee who quit after being told she could no longer take the Thanksgiving vacation days she had booked went viral on Reddit, where it received over 147,000 upvotes.
In a post shared on the anti-work Reddit sub-forum, user bearandthebunny shared a screenshot of a text exchange with their employer, known as Matt. The employee was allegedly told by text that he "needs" to work on Thanksgiving Day and tomorrow due to a "scheduling nightmare," since another employee (Megan) will be gone.
When the user replied, "I'm already approved to go that weekend, 24-27," Matt wrote, "Things have changed, I have you scheduled for the morning of the 24th and the afternoon of the 25th."
The operator then said, "I'm not coming on Thanksgiving," to which Matt allegedly replied, "It's non-negotiable, there are no other options. If you want to continue working here, I need you to work on the 24th and 25th."
The original poster replied, "Guess I quit then, I'm not coming in tonight [the peace sign with two fingers]," to which Matt said, "Please call me now."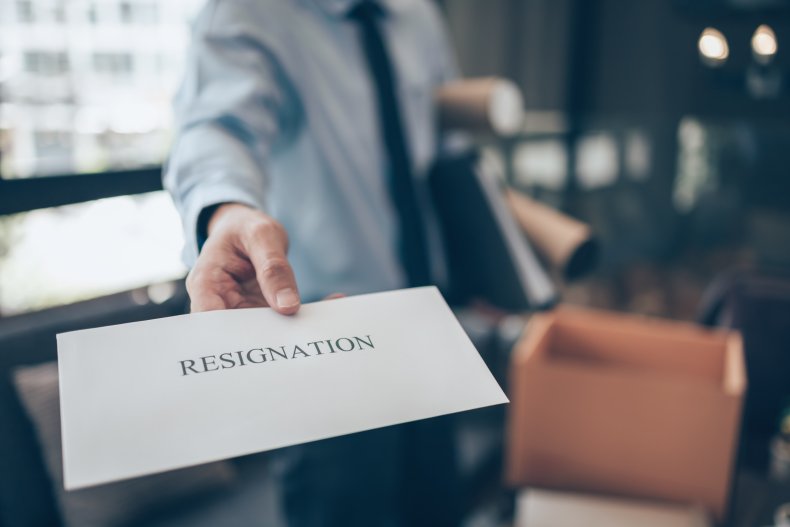 Among the top reasons for people leaving jobs in 2021, "not having enough power to choose when to put in the hours" was cited by nearly a quarter (24 percent) of those surveyed in a Pew Research Center study published in March 2022. The reasons were "feeling disrespected at work" (percent -35) and working too many hours (20 percent).
Was the Manager Unfair?
Joe Mull, author and host of Boss Better Now podcast and founder of the BossBetter Leadership Academy, he told Newsweek The employer's actions at work—cancelling an employee's vacation at the last minute and "authorizing work"—are just one example of the "ingrained, routine inhumane treatment" that has been "existing in workplaces for years and that workers are rejecting in droves." "
Brooks Scott, an executive coach and communications expert, said, "Yes, but this is more than a question of justice. It's about right and wrong under your company's policies. A manager trying to establish a weak company policy that ends up providing less structure and even more chaos."
Thomas Roulet, an associate professor at the University of Cambridge who teaches human resources, business management and leadership at the Jaji Business School, said the employer's behavior was "unfair and dangerous."
Employers should be careful not to frustrate their employees in this situation when they are already "weary and more likely to leave and find other attractive jobs," he said.
Quick Decision to Quit Right Away?
Mull said the employee "didn't make a rash decision," explaining that the user "finally had enough of this type of treatment, which falls into the category of dehumanization."
Dehumanization is "the perception and treatment of people in ways that ignore and diminish their value as human beings," Mull said. In the workplace, this happens when "employees are treated not as people but as property."
In a Reddit post, "the company's priorities were more important than the work. This is dehumanizing," according to Mull.
Scott said it was not that the employee was forced to leave because they had no other choice. Instead, they "choose to exercise their right after realizing that there is no benefit in doing more for a company that won't do less for you."
Darcy Eikenberg, certified career and leadership coach and author of Red Cape Rescue: Save Your Job Without Quitting Your Jobhe told Newsweek that the employee should not have stopped with a text message. "They should have taken their agreed time off and let the manager get on with solving the problems."
"By quitting a job versus waiting to see if someone is actually going to fire them on Monday…they lose out on unemployment or layoff benefits," he said. "There is nothing to be gained by reacting instead of taking the beat and talking about it when cooler heads prevail."
Roulet said: "The hasty labor decision can best be understood in terms of 'big resignations' and 'slow quits'—two expressions that still reflect the current lack of broad engagement and motivation of workers in an era of great uncertainty." and inflation."
Scott said: "A lot needs to be done to protect workers because not everyone is in a position to quit their job right away. It's a privilege to be able to do that, and it's a privilege.
"But if we don't find a way to establish laws against these practices, companies will see many workers choosing them instead of their company," he said.
Could This Have Been Handled Differently?
Eikenberg said, from the beginning, this conversation should have been done by phone instead of text.
He said: "Many of us have never been taught any frameworks on when to use digital communication and when to discuss. Therefore, increasingly, "the media and the message are disconnected from the work more often."
Eikenberg said a live conversation initiated by an employer would begin with gaining understanding and then "asking, not demanding" the employee.
The career coach said live exchanges "can result in a collaborative conversation to help solve a problem," such as a worker coming in for a few hours or a user reminding a manager that someone else might be flexible.
"Ultimately, if a team is set up in such a way that the availability of one person makes or breaks the company, that's a big problem and both managers and employees have to go find new jobs," Eikenberg said.
There Are Always 'Bigger Fish'
Several Redditors showed support for the original poster.
In a comment that received more than 11,000 votes, NumbSurprise suggested that when the employer said "Please call me now," the original poster should have said, "No. Whatever you want to say to me, you can write it."
User grinberB wrote: "Guess and 'Non-negotiable, f***o," in a comment that received 9,400 upvotes.
User tooOddtooCare replied: "Indeed he is [the employer] he was right. There was no negotiation [winking face emoji]," in a comment that received over 5,000 upvotes.
MysticYogiP said: "There's always a bigger fish."
Newsweek Linked the original poster to comment.
–