Editor's Note: Adrienne L. Childs, Ph.D., is an independent artist and art historian, adjunct curator at The Phillips Collection in Washington, DC and recipient of the 2022 Driskell Award for her contributions to the field of African American art. He is the author of the forthcoming book, "Ornamental Blackness: The Black Figure in European Decorative Arts." The views expressed in this article are his own. Read more views on CNN.


CNN
–

Hands and arms can represent the gamut of the physical and mental life of people. A sign can show strength, opposition, anger, fear, love, hatred, passion, comfort and many more. Rosie the Riveter's pumping bicep and the rising fists of John Carlos and Tommie Smith have made some of the most powerful cultural statements in American history.
Using the powerful language of signs – which has always been part of his figurative writings – artist Hank Willis Thomas created "The Embrace," a public memorial to the American icon Dr. Martin Luther King, Jr. and his wife, Coretta Scott King. .
Released on January 13 in Boston Common, "The Embrace" reveals the embracing arms of Dr. and Mrs. King from a photo taken by Dr. When King won the Nobel Peace Prize in 1964. In that photo, Thomas saw the bond between the two. the friendship between them, the support that carried them through the years of their marriage and beyond.
The composition of the structure of the monument of his Majesty is not the only statement of Thomas. Hands and arms are among the symbols of the creator. He used short versions to tell epic stories of violence, complex industrial games and now, the power of love.
In "Simudzai" in 2014, we meet the heads and arms raised of 10 black men – although the broken body parts point to the image of South African men who were forced to take this vulnerable position in a group medical examination, it also speaks volumes about lack. the obstacles faced by black men from violent "superior" forces throughout American history. These kinds of layered references are typical of Thomas' style.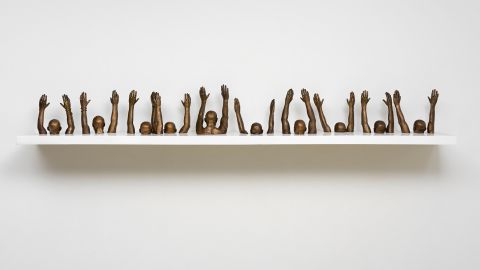 From social justice to social empowerment, Thomas used one bronze hand pointed to the sky in his 2019 public painting, "Unity," which was installed near the bottom of the Brooklyn Bridge.
Although the bronze may show Black's hand in the style of Thomas's major work, "Unity" suggests a global ascension and is deliberately brought about by force. Perhaps its simplicity is easier to read than the complexity of "The Embrace."
Although Dr. and Mrs. King are some of the most famous faces in American history and there is a great power associated with those faces, Thomas decided to show the opportunity to speak of weapons again.
I heard Thomas say in a recent commentary that a great burden is placed on Kings and their likenesses to do the difficult work of social justice. I agree that Dr. King's face has become a symbol of the loss of many others.
"The Embrace" wishes to express the love and support of the world in a way removed from the eyes of Dr. King. Who can oppose this bold intention? Indeed, many, including members of the King's family, praised his vision. However his behavior caused some resistance and a difficult reaction to the memorial.
Others complained about the speculative nature of the monument. Some complain that it does not adequately represent the greatness of Dr. The King's legacy. Does its focus on love take away from the fact that conflict continues? From other angles, observers imagined ugly, impure and ugly images. It is clear that this is not what the experts wanted to do.
But when positive messages are blocked on social media, they gain exponential traction and take on more importance than they deserve. Not surprisingly, sexist comments became grist on the complaint mill.
Even comedian Leslie Jones took the image to task, saying she "can't see" the sexual connotation. But as humor often does, his behavior exposed the controversy and its misunderstandings.
The 2011 monument to Dr. King It was designed for Washington, DC, which is a politically controversial site for American historical monuments, which has also been affected by controversy. Was the monument old? Was it really like Dr. King? Did a Chinese-American artist have the right to represent an African-American hero? These questions are not answered.
There is no shortage of controversy over public sculptures, especially when Blackness is in danger. In 2011, after being commissioned to design the Indianapolis Cultural Trail, a statue of African-American Fred Wilson, "E Pluribus Unum," was stopped before it was even installed.
The design was an image of a fearful slave taken from Soldiers and Sailors Monument in Indianapolis, where the original structure was a symbol of Black submission. Wilson's work would reframe the image as an image of empowerment – a key intervention often used by Wilson. However the African-American community refused to stand for submission, and the project was eventually abandoned.
Thomas's approach to King's legacy comes at a time when the controversy surrounding memorials has been part of our public reading of violence and racism in America past and present. Monuments to confederates – erected as much to support White supremacy as to commemorate the past two – have been attacked and torn down as a form of racism driven by visual culture. Indeed, art is an important tool in exercising and questioning political power.
For too long, stories of black resistance, struggle and success have been absent from America's vast web of festive images. On departure there are reminders to Dr. King and other African Americans, such as Harriett Tubman and Frederick Douglass, commemorate the warriors for social justice and to oppose the proliferation of monuments to white men.
Renée Ater, a visiting professor in Africana Studies at Brown University, has delved deeply into the history of American architecture that deals with the past of American slavery and has recently been in conversation with four Black monument artists who discuss the issues they encountered in creating stone. in America.
For decades we have faced the inequities found in our public art, and we are now reckoning with them. Thomas' brave venture into the tumultuous world of public memorials was never going to be easy.
There are countless memorials to Dr. King throughout the world, and indeed the world. Many representative images make it appealing to the general public. Thomas' "The Embrace" takes another place in the business of remembering Dr. King. I admire his decision to take risks with his creation and focus on love and compassion