Riverside County, California. – A Riverside County deputy has died after being shot Friday.
The Riverside County Sheriff's Office responded to a call in the 18500 block of Hilldale Lane in Lake Elsinore. The deputy, later identified as 30-year-old Darnell Calhoun, was transported to a hospital where he was pronounced dead.
The RSO said that one person was taken into custody after the shooting.
According to Sheriff Chad Bianco, Calhoun responded to a child custody call around 4:20 p.m. after Calhoun arrived on scene, and a gunfight ensued that ultimately killed the deputy.
Authorities have not said what exactly led to the shooting.
Calhoun joined the department in February 2022 after serving with the San Diego Police Department, Bianco said. Bianco said Calhoun will be a husband, son and father.
"Not one person has a negative thing to say about him," Bianco said of Calhoun. "He was the nicest, healthiest person you could imagine."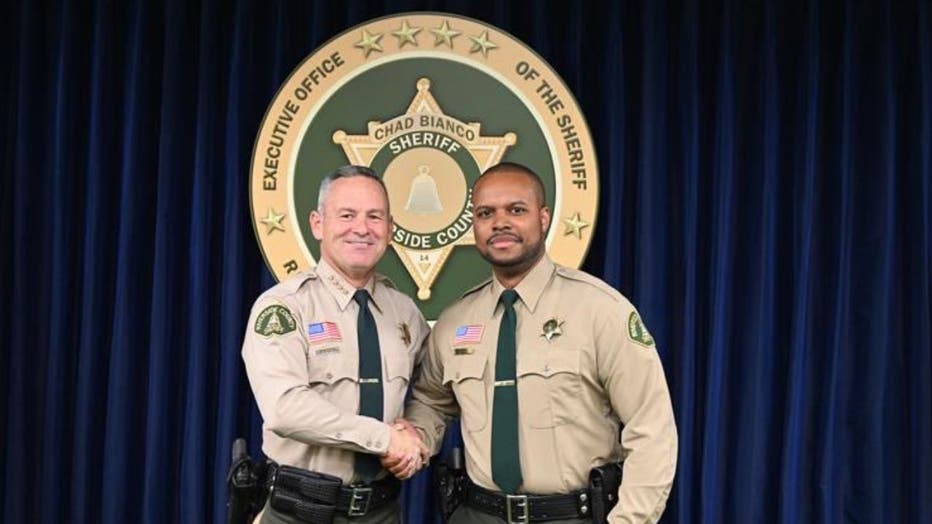 Darnell Calhoun, right, next to Sheriff Chad Bianco. Photo: Riverside County Sheriff's Office.
After news of Calhoun's death was announced, law enforcement departments in Southern California offered their condolences:
Los Angeles Police Department
Orange County Sheriff's Office
San Bernardino County Sheriff's Office
San Diego Police Department (Calhoun's former department)
Ventura County Sheriff's Office
Late Friday night, a parade was held in honor of a deputy killed in the line of duty:
The violent incident comes just weeks after another Riverside County deputy was shot and killed by a suspect in Jurupa Valley. On the afternoon of December 29, Deputy Isaiah Cordero was killed while attempting to conduct a traffic stop. The shooting suspect, 44-year-old William Shay McKay, was later killed after a pursuit.
Related: Remembering Isaiah Cordero: The slain deputy was laid to rest